WETT Certified Inspections are Important
Most Insurance Companies now require a WETT Certified Inspection prior to issuing a Home Insurance Policy.  Many Realtor's are now requesting that a WETT Certified Inspection be performed when Listing Property.
What is a WETT Certified Inspection ?
A WETT inspection,  short for Wood Energy Technology Transfer, is a thorough inspection of all types of wood burning appliances.  This includes fireplaces, fireplace inserts, wood stoves, pellet stoves and outside boilers.
Fire is always a threat to a home and a WETT Inspection can provide "Peace of Mind" for the homeowner and his family.
Typically, when people are looking for an insurance type of inspection, a WETT certified inspector will conduct a visual Level I inspection to determine if there is evidence of any problems with the installation.
The Level I inspection is essentially a general overview of the readily accessible parts, clearances, chimney heights, stove location with respect to combustible materials and visual signs to determine if the system meets the CSA Standard B365 (Installation Code for Solid-Fuel-Burning Appliances and Equipment).
Common Problems Found During WETT Inspections
One of the most frequent deficiencies found when inspecting Wood Stove Installations is that stove does not have the required distance to combustible material.  Any Certified Wood Stove will have a Label on the back of stove that clearly states the distance required at rear of stove, the sides of stove and the top of stove.  Also will be the distance required from flue pipe, whether single wall or double wall.  Some times simply moving appliance is all that is required or a heat shield maybe required to meet the Installation Requirements.
Ember Pad Requirements
Ember protection is required to extend a minimum of 18 inches in front the opening door, and 8 inches beyond the appliance on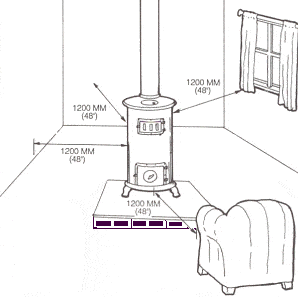 the other sides.
Every wood stove is required to have proper floor protection, which is determined by B365 Installation Code for Solid Fuel Burning Appliances and Equipment. Your appliance would be exempt from these requirements if it was installed on a concrete floor. Not having the required floor protection can endanger you and your family. Often during WETT Inspections we often find improper or damaged floor protection around space heaters.
Heat Protection may also be required under your stove depending on the particular model and Listing Requirements.  Most modern wood stoves are  constructed so that Floor Protection is not required.
Masonry Chimney Damaged
Many older masonry chimneys were constructed with a concrete cap which did not have a built in drip edge.  These older chimneys were very susceptible to water entry and damage to flue tile and the supporting brick.  As  most  people  do  not  climb  on  their  roofs  to inspect  their  chimney,  the  chimney  can  often sustain some severe damage before becoming noticeable.  The Barrie WETT Inspector can inspect your chimney and wood burning appliance to ensure your system is operating safely and point out any required maintenance.
Ceiling Heat Shield
Some times your Certification Label may require more clearance than is available from the Top of your Stove to the Ceiling.  CSA B365 provides a solution for this, which is to construct a ceiling heat shield.  See the picture supplied
for installation requirements. For example if your wood stove required 56 inches clearance from Top of Stove to the Ceiling and you only had 50 inches.  Your Heat Shield would be required to protect the ceiling where you do not have the required 56 inches.  ( a 29 gauge metal shield with 7/8 inch spacers would give you a 50% reduction in clearance required.
Note:  If your flue pipe is not within the distance requirements for combustible clearances you can add a heat shield to the flue pipe.  You can buy various sizes of heat shields for flue pipes at Amazon.com and probably most box stores.
The flue pipe heat shield is attached to flue pipe using self tapping screws.  You cannot attach a heat shield to Double Wall Flue Pipe as it is a rated product and is not allowed to be modified.
WETT Inspections can be performed typically within 48 hours.   Inspections conducted 7 days a week.
Call Roger at 705-795-8255 or Toll Free at 888-818-8608
Send Roger an Email   [email protected]
Over 15 years experience as Site Basic WETT Certified Inspector.
Military and RMCP personnel posted to Edmonton should contact the Edmonton Military Relocation Experts